Seed Germination:
Seed starting can be fun as well as practical...just follow some basic steps and you'll be on your way to growing a great garden!
1) LIGHT: Certain species of vegetables and flowers require light for germination, such as impatients and some lettuce varieties.
Sow the seed on the soil surface, and do not cover with soil. Lights should be placed very close to the top of your starter flats, to avoid plants stretching.
2) HEAT: Most species of vegetables and flowers require a soil temperature (not air temp.) of approx. 70 - 78 degrees F. remember soil temp. is approx. 5 degrees below air temp. Therefore, the avaerage air temp. in your home is NOT sufficient for plant germination requirements. Use a heat mat or heat cable to provide adequate heat.
3) SOIL STARTER: Use a sterile seed starting mixture, not ground from your garden! Out side ground can have harmful molds and bacteria that will kill new seedlings and seeds. Also make sure that your flats have been cleaned with hot water and soap if used the year before.
4) COVER YOUR FLATS: Most flats are pachaged with covers that help with the holding of moisture which aids in germination. Don't forget to remove the covers after germination occurs for a 2-4 hour period each day , approx. every other day. this will help prevent mildews and seedling rot caused by too much moisture after germination.
What do you want to plant?
Matthew 13:24,37&38
1. Test your soil. Why spend all the time preparing, planning and planting a crop in soil that won't support it!?!
You can't grow flowers in cement, so why plant corn in nitrogen deficiant soil?
2. Know what type of tillage your planning. No-till, Moldboard, Chisel, conservation, conventional.
if you don't have the money to spend outright on impliments, try custom farming farmers in your area. Most cutom rates are really reasonable (regulated by your state), and will save you time and money especially if you just getting started.
3. Seedbed preperation is improtant for proper flow of equipment, seed spacing and row straightness. With No-till planting you just plant between last seasons rows. That's it! If your doing any type of tillage you'll need to smooth out the ridges of the furrows, break up any clumps, firm up the soil and smooth it out (spring- tooth harrow or combination roller-harrow).
4. Straight rows are sometimes a challange. The best way is to set your sights on a fixed point at the other end of your garden or field. Don't try and follow the rows made by your seedbed prep harrow.
5. Time your planting so the soil is between 50 degrees & 70 degrees. Proper germination is imperative for proper emergence of the plant. If it's to cool/cold you'll stress the seed plant and will stunt it's overall growth if you obtain any at all! Plant when the forcast calls for rain and the moon is favorable. This is explained best in detail in THE OLD FARMERS ALMANAC. You can look up approximate last frost dates for your area, and best time to plant whatever crops you are planning, and unbelievably acurate weather forcasts for 16 regions of the United States of America.
Sweet Corn is our specialty. Local (SouthEast PA) data indicates that maximum corn yields are achieved with planting dates from April 15th to May 15th, little yield reduction occurs until planting is delayed past May 20th. Less than 10 % of total yield response can be attributed to planting dates when planting occurs between the 1st and 20th of May.
Make sure you monitor your fields for emergence and stand uniformity and be prepared to take quick action if large problems are encountered. If needed, the success of a corn replant depends on the replanting dates chosen.
Best bet is to check with your local Extension Agent.

Planting Silver Queen Sweet Corn April 15th, 2002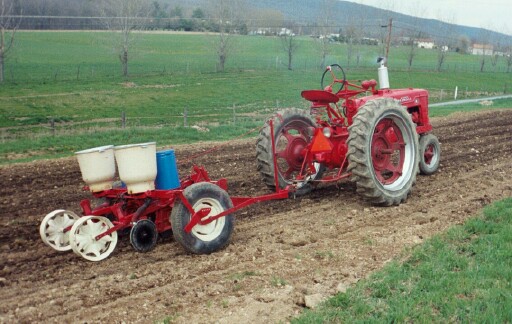 This 2 row McCormick 249-A planter worked nicely with our '48 FARMALL "H"
This was the only flat spot on our farmette in Kempton, PA! We rotated this area between Sweet Corn and grass. The slopes around there weren't the only challenge, we had Ladig/Very Gravelly/Loam soils, that were generally 8 to 25% sloped!
BEANS: Wait until the soil is 60 degrees F before planting bean seeds. Make sure your soil is nice and loose to a depth of approx. 8", than mix in some compost. Plant seeds 1" deep, and as they grow, thin the plants to 2" apart.
CORN: Plant seeds 1: deep if the soil is wet, 2" deep is it isn't. To help seeds germinate, streach plastic wrap along the top of the furrows and anchore with stones or soil. As soon as you see the plants emerging, remove the plastic.
LETTUCE: This is a good end of season crop. Plant a fall crop in August to extend your gardening season. Make sure the soil is cool before planting lettuce seeds. Plant in row's 3' apart to add in easy harvesting.
PEAS: Best bet is to get your ground ready the fall before! Turn over soil, add manure and mulch well! In early spring, make holes with a pencil. A late blanketing of snow won't hurt already emerged plants but prolonged cold/freezing exposure could damage the crop. Plant in rows 2 - 3' wide.
POTATOES: Plant seed potatoes about 1 week before your last expected frost. Plant 12" apart "in a trench", and cover with 4" of soil. When the plant stems are approx. 8" high, fill the trench with more soil, leaving approx. 4" of the plant exposed. Harvest potatoes once the plant has mostly browned. This is a crop that will require alot of water/irrigation.
PUMPKINS: Plant these seeds approx. 4 weeks after your last frost. In the South East of PA that would be around May15th.
That's it! Don't try and keep them in row's, they'll grow where they want to.
Cultivating usually isn't required once the large broad leaves appear. They'll shade out all sunlight from the ground, prevent weeds and gather most of the rain that hopfully fall's!
Squash/Cuccumbers: Plants in the squash family hate cold weather.
Leave alot of room between plants. They spread like crazy! Plants should be planted approx. an inch deep in "hills" 3' apart, and in row spacings of 3 - 5'.