Our Howden/Jack O'lantern pumpkins did extremely well this year. They didn't require any irrigation, and rippened right on schedule. We had an early frost (October 2nd & 3rd), but 95% of them were matured to a bright orange and were harvested the evening before the frost hit.
Our largets pumpkin reached 45 lbs. with a diameter of 52"!!
There were no fertilizers used on our pumpkins other than compost that was turned into the ground in the spring.
There was plenty of rain this year, on average it rained every 4th day! There was also lots of morning dew to give the vines a good start each day. We didn't have to irrigate at all this year!
Sam with our 45 pound Howden/Jack O' lantern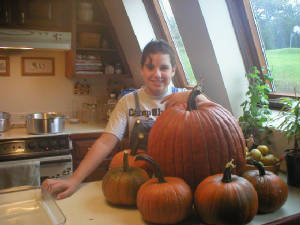 The smaller "sugar pie" ones are good for...You got it! Pumkin Pie!!