100% Grass-fed
& Heart Healthy
BEEFALO
All our BEEFALO products include our
DNA SOURCE VERIFICATION
GUARANTEE
* done by an independent lab. *

that way you know the meat your buying is from our farm!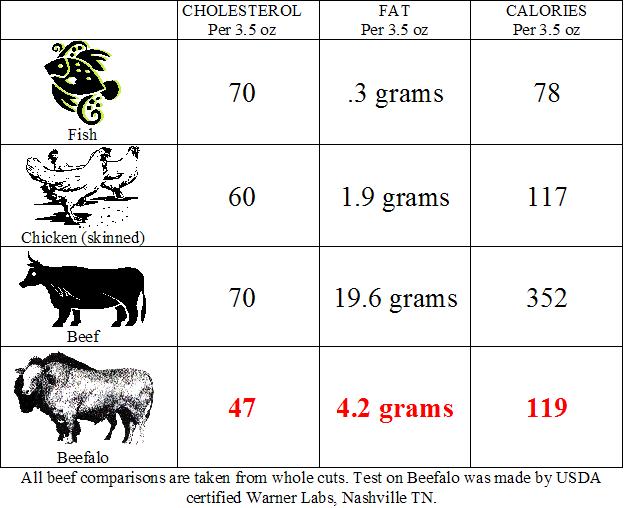 Interested in buying a half or whole

BEEFALO
for 2016?

Ordering and Receiving
Our bulk 100% Grass-Fed LEAN RED ANGUS BEEFALO are sold as either a whole animal, half, quarter, or split half. We can arrange processing by our LOCAL USDA certified & Inspected butcher shop or we can work with your selected processor, and deliver it ourselves to their location. That's easy trace-ability and peace of mind for you and your family, and less transport stress on the animals.
our Stock is already SOLD OUT
for 2015
Since we have a limited supply of BEEFALO available each year, and we do sell out each year, we require a deposit be paid at the time we reserve your meat for you. The deposit is due with the reserve form. The required deposits are as follows:
Whole BEEF.............$200.00
Half BEEF.................$100.00
Should you decide not to go through with your purchase, the deposit is non-refundable. We need to count on the orders we receive as being reliable and do not like turning someone away especially if in the end we have meat available because someone backed out of an order. We hope you understand our situation.
One month prior to harvest, we will contact you via e-mail or telephone to confirm you still want the meat. We will provide processing information at this time for you to review, and determine the desired outcome of your selection. We will follow up and work with you to best accommodate your requests.
At the time of harvest, we will contact you via e-mail with the hanging weight of the meat, and a bill for the balance due. This payment is due prior to the time you pick up or we ship your meat.
We accept cash or checks - made payable to:
The Kuhn Family Farm
Since we only have a limited supply of 100% Grass-fed LEAN BEEFALO available, we ask that you use the following procedure to order meat.
Complete the Beefalo request form and submit it to us either via e-mail, or call us at (570) 297-4466.
We will confirm availability and send you a reserve form outlining estimated total costs to include shipping fees if applicable with instructions outlining how to submit your deposit within 14 days of the date.
If we are reserved for the year, we will contact you and ask if you would like to be on a waiting list.